Rifle Ranges
Open to the public Saturday and Sunday 8AM - Noon
The new 300 yard rifle range (R3) is now open.
Please see below for match schedule and description. Almost all the long rifle matches are scheduled on Sunday mornings.
The matches are open to all shooters. Some matches have a small match fee to cover the cost of the targets.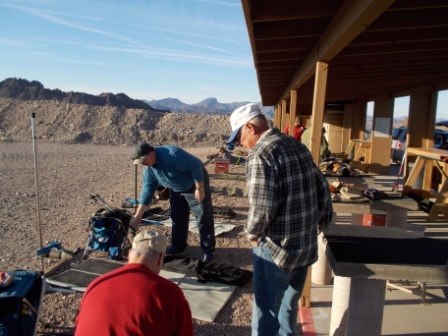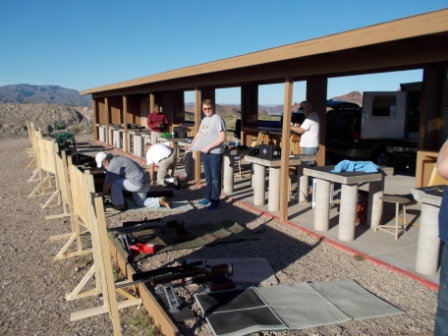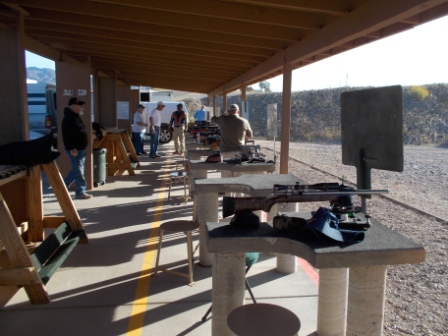 Rifle Division Sunday match schedule. Time 0800 Apr-Sep (Because of the heat) 0900 Oct-Mar $5 charge for each shoot. This covers the cost of targets. All matches are held at the 300 yard range except the Rim-fire, which is held at the 100 yard range. Everyone is invited to shoot.

Equipment required by type of match

Muzzle breaks are not allowed due to the danger of hearing damage. Equipment needed includes: a rifle and scope, bipod or front rest, depending on type of shoot, rear bag/rest, mat for prone, sufficient ammo to compete, a hat of some type is recommended for XTC & F Class matches (The sun in the summer can be brutal). A shooting jacket for XTC is recommended but not required. An adjustable sling is recommended for XTC. Without the jacket, elbow pads would be helpful in the prone position during the XTC.

1st Saturday .22 Rim Fire at 50 yards Bench rest style. Fired from concrete benches. Front rest and rear bag should be used. 25 shots for Score in 20 min. Unlimited sighters 1 shot at each target. Each target has 30 targets on it. Most shooters use bolt guns and scopes

1st Sunday Across the Course (XTC) Any rifle Any sight. Slings are used here. 200 yards. Reduced target size as required to simulate 300 and 600 yard targets. 10 rounds Off-Hand slow fire 10 min. 10 rounds sitting rapid. 2 magazines with 5 rounds each 60 seconds, 10 rounds prone rapid. 2 magazines with 5 rounds each 70 seconds, 20 rounds prone slow fire. 20 minutes. Usually AR 15, M-1 Garand, M-1 Carbine, or bolt gun capable of rapid fire and loading.

2nd Sunday F-Class any rifle any sight. Fired from the prone position. 300 yard. Firing at Shoot and See targets with actual targets underneath. 20 rounds fired in 25 minutes. Unlimited sighters Usually 3 relays, mirage permitting. 40 rounds for 2 relays or 60 rounds for 3 relays. Most fire .223 bolt guns, but any caliber up to .35 is permitted. No muzzle breaks allowed.

3rd Sunday 3 Gun competition has the range. (pistol, rifle, shotgun)

4th Sunday Bench Rest 200 yard for score target. Fired from concrete benches. 4 targets per sheet. 5 shots at each target within 20 min, unlimited sighters. Any rifle, any sight. Most people shoot bolt guns with scopes. No muzzle breaks. 2 relays fired. 40 shots for score, plus sighters

5th Sunday Usually F Class. However it could be any of the disciplines. Just depends on what the shooters want.

<! dead link- removed p align="center"> <!font color="#FF0000" size="4"> <!Click here for all your Rifle information & Scores