Closed for summer 7/15/2017 - 8/19/2017
Saturday Morning
8 AM to Noon
5 stand Sporting Clays
Trap & Skeet

Sunday Mornings
8 am to Noon
Trap & Skeet

Wednesday Morning
8 AM to Noon
Wednesday Nights
6 pm to 9 pm
Trap & Skeet
Prices for Skeet-Trap-Sporting Clays

Members $5.00 per round
Non-Members $7.00 per round
20 rounds of tickets $100
Rental guns are available
Our main clubhouse is located at field three and has a covered patio with seating
as well as benches and racks for shotguns and accessories. Shot shells and some shooting supplies are available at the
clubhouse as well as rental guns for those who need them.
*** Click for Picture ***
Whether you've never tried shooting trap before or you're a AA shooter,
come experience shooting in the Arizona Desert.

Trap Ranges


Our complex offers five trap fields, all with voice activated automatic traps. Fields two and three feature
lighting for night shooting and includes "Doubles" capability. Field four is also lighted for night
shooting and field three features a "Wobble" trap. Covered cabanas overlook all fields with
plenty of seating for spectators and on deck shooters. Field 5 is dual purpose skeet & trap field.
Skeet Ranges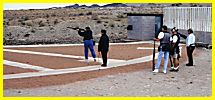 The skeet range is lighted and has a upper & lower house. The range can also be used for trap.
The skeet range has its own building with covered patio and a restroom.

5 Stand Range
Here is your chance to get hooked on Sporting Clays. Our 5-Stand Sporting Clays ranges
offers targets of all kinds. Whether it's Springing Teal, Rabbit or Driven targets that you like
you'll find it on this range. Some people consider the designers of Sporting Clays ranges to
be slightly sadistic when it comes to target layout. We consider ours to be shall we say,
"Challenging". The 5 stand range can also be used for skeet.
From the novice shooter to the expert you will enjoy this particular range immensely.
We offer automated computerized score keeping and pulling. With "Level I, II, and III" games.
As well as the "Flurry or Flush", Unknowns and Report Pairs or just about any combination
of the above that you can imagine.
LHCSC is affiliated with the below organizations, click logo to go to the site.